81-year-old August V. from Voorhees, NJ lives a pretty active lifestyle, but since he is always out and about, his family became concerned about the fact that he may experience a fall outside the home. After speaking with Life Safety Consultant Tim Ennis on November 27, August's family decided to ensure his safety both at home and on-the-go with our Mobile Guardian medical alert system, and it seems that they did so just in time!
It was only a little over a month later on December 31 at 10:42 p.m. that emergency operator Rashida received an emergency call from August's medical alert device. August explained that he slipped when walking into his bedroom and that his head seemed to be bleeding. Rashida immediately dispatched EMTs to August's home and then proceeded to call his emergency contacts. She was able to reach Leslie V., who left for August's home right away.
Within minutes, both EMTs and Leslie were at August's home, ensuring that he received the immediate and proper care he needed to treat his injuries.
New Year's Eve has become one of the most celebrated and highly-anticipated holidays, and it's no wonder why. Between watching the ball drop and welcoming the new year with our loved ones, New Year's Eve is a great time to celebrate and give thanks for the gift of another year. But amid the hustle and bustle of the holiday season, it's often easy to forget that an emergency could happen, especially when you least expect it.
It's a scary reality that none of us know when an emergency will strike, but that is why Medical Guardian guarantees your protection every day of the year, even on holidays, because your safety is our top priority.
MG's 10 Year Anniversary!
2015 was a big year for us here at Medical Guardian. Not only did we carry out our mission of saving lives from medical emergencies like the one August experienced every day nationwide, but we also reached an impressive milestone: we celebrated our 10 year anniversary!
Since 2005, Medical Guardian has been providing medical alert devices to seniors and their loved ones, granting peace of mind to all who wish to remain protected from medical emergencies, home intrusions, fires and home accidents. Over this past decade, our top priority has been, and always will be, your safety – this is our promise and the most important aspect of the peace of mind guarantee we offer with every product.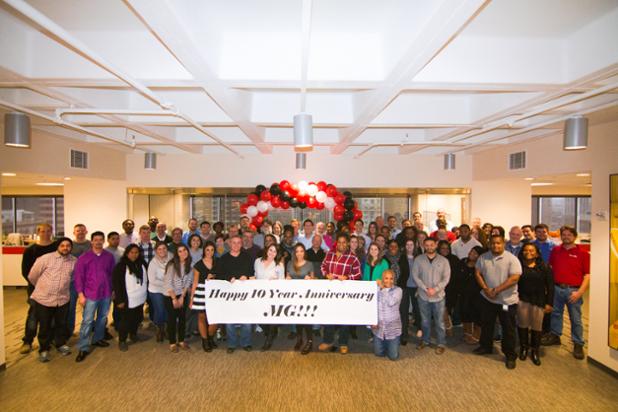 Based in Philadelphia, PA, Medical Guardian's 100+ employees celebrated the company's 10 year anniversary.
Moving forward, we strive to continue providing our clients with the newest technology in the personal emergency response systems industry and with the best possible service.
From all of us here at Medical Guardian, we want to thank you for allowing us to protect you and your loved ones for more than 10 years, and we look forward to many more years of ensuring your safety.
Wishing you and your loved ones a happy and safe new year!