Get Immediate Help in 3 Easy Steps
1
Press Your Medical Alert Help Button
All of Medical Guardian's devices have clear, easily pressed buttons to connect with our medical monitoring center in seconds.
Fast, Reliable Response

Our state-of-the-art technology lets you connect with a highly trained emergency operator instantly.

Clear Reception Everywhere

With Nationwide AT&T or Verizon cellular service included, you are covered all over the map.

Comfortable and Durable Devices

Our lightweight, waterproof wearable devices powered by the longest lasting batteries available mean you live with confidence.

Usable No Matter Where You Are

Our in-home systems have the largest signal range on the market, offering almost four football fields of protection.
2
Connect with Our Emergency Monitoring Center
to Confirm Your Situation
24/7 Protection is Standing By
24 hours a day, 7 days a week, our U.S.-based emergency call operators are always here for you. When you push the button on your Medical Guardian device, you will receive instant help by an expert who will get you the help you need – emergency or not – right away. Our operators receive intensive training to handle any situation, so you're in good hands.
That's why the Medical Guardian system is rated #1, and why we were recently awarded the Silver Stevie® Award for Customer Service Department of the Year. We maintain the highest standards of service because you deserve peace of mind.
3
Receive Immediate Assistance
Help is on the Way
In the event of an emergency, a quick response matters. Your safety is our #1 concern, and if needed, we'll immediately dispatch emergency personnel to your location.
If we can't hear you through your device, we'll call your designated phone number to confirm your well-being. Should we not be able to reach you, we'll send emergency medical services to ensure your safety.
We recognize that not every situation calls for an emergency response. If you simply require an extra hand, our trained operators will alert family members, neighbors or friends in your Care Circle so that you can quickly get the exact type of assistance you need.
Comparing Our Emergency Medical Alert Systems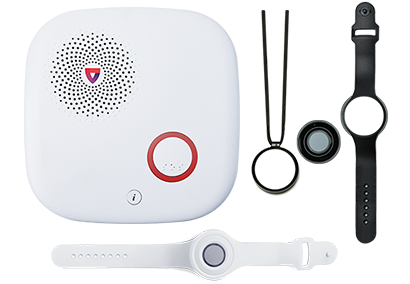 In-Home Medical Alert Systems
Our award-winning in-home medical alert systems use the most advanced technology available to provide 24/7 protection, whether you have a landline or cellular network. No matter which system you choose, all devices have a backup battery.
Compare In-Home Systems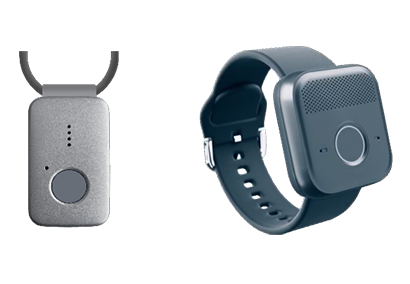 On-the-Go Medical Alert Systems
Our state-of-the-art mobile systems are designed to keep up with your busy lifestyle – allowing you to enjoy your life without limits. Lightweight and discreet, they also feature automatic GPS and WiFi tracking to ensure help arrives at your location.
Compare On-the-Go Systems
Accessories Add to Your Comfort and Safety
A medical alert system should fit your needs perfectly. Add-ons and accessories can help you customize your system so it is most convenient and effective for you. From voice-activated wall buttons to fall alert pendants, our emergency accessories are designed with you in mind.
Unsure How Emergency Response Systems Work?
Call 1-800-668-9200 to speak with our highly trained medical alert experts who will walk you through:
Types of medical alert sytems and how they work
The lifestyle you enjoy and would like to maintain
Special discounts you may qualify for to ensure the most affordable system price
Frequently Asked Questions
Our goal is to provide you with information about our emergency alert systems, medical alert jewelry, and mobile medical alert devices so that you can make the most informed decision for you and your family.
Medical Guardian medical alert systems are not meant to replace 9-1-1. But, they do make connecting to emergency help simple and uncomplicated. In a true emergency, you may not have access to a phone or be able to clearly provide information to emergency responders.

Medical Guardian keeps your information on file and can quickly dispatch emergency services to your exact location. Every order comes with an EMT card that we advise placing on the fridge. This card provides crucial medical information for EMTs upon their arrival in case of an emergency.

But Medical Guardian is more than just a dispatch service. Our medical alert systems monitor you or your loved ones with wireless connectivity, GPS tracking, and fall detection. In addition, we know that not every situation is an emergency, and sometimes you just need to speak with someone or connect quickly to your family or friends. Our non-emergency services provide you with that assistance 24/7.
No.
A cell phone does not replace the need for a medical alert device. You or a loved one may not have access to a cell phone at all times, cell phone batteries can die, and cell phones can lose calls or reception depending on your location.

Even simply dialing 9-1-1 in an emergency can be difficult because it may require putting in a passcode or getting facial recognition to work. In a real emergency, those precious seconds matter.

We make connecting to our emergency monitoring center as easy as pressing a button on your wearable medical alert device. This button quickly connects to our monitoring center and works even if your cell phone doesn't have reception or battery life.
You can use Medical Guardian's non-Emergency dispatch services at any time. Simply press the button on your medical alert device and connect with our 24/7 monitoring center.

This is helpful if you or a loved one is not feeling well, gets stuck and need assistance, have flare ups of a medical condition, or if something is making you uneasy and you need someone to talk to.

Our trained call operators can quickly alert the family members, neighbors, or friends in your Care Circle so that you can quickly get the assistance you need in any situation.
Enjoy protection and peace of mind for the whole family with our spousal monitoring program. When you purchase a second pendant using the
Classic Guardian
or
Home Guardian
, we'll monitor it for free!
Our medical alert system protection plan guarantees that you will never have to pay any out of pocket expenses for a lost, stolen, or damaged device.
Unlike other providers,
Medical Guardian
does not charge any cancellation fees, and we provide full prorated refunds for months of unused service.
Learn more about our policies
.
Yes.
Medical Guardian is 100% U.S.-based. When a company's monitoring services are outsourced overseas, you're much more likely to encounter language barriers. This can make it difficult to receive a quick response when you use your medical alert system to call for help. That's why our monitoring center is located within the United States, so you never have to worry about being unable to understand our operators.

Even if you speak a language other than English or Spanish, our emergency operators will still be able to communicate with you using a translation service.


A medical alarm, also known as medical alert systems or personal emergency response systems, are devices that signal a monitoring center in critical emergency situations to summon help from professional emergency medical personnel. They can also alert emergency contacts such as family members, neighbors, and caregivers. When a Medical Guardian device is activated, typically by pressing a button, the user will be connected with a 100% U.S. based, Five-Diamond Certified monitoring center, who will assess the situation to secure help in case of an emergency.


A medical alert system provides loved ones with the peace of mind to live life confidently, especially in the face of emergencies. They allow you to have quick 24/7 access to medical monitoring services who can provide the best course of help. They can also be used in non-medical situations, such as gas leaks, fires, and robbery, when pressing a button is quicker than locating a phone to dial 9-1-1.


Shop Online
Compare pricing and features before ordering your medical alert system.
Compare Products
Ask Our Experts
Our Life Safety Consultants are standing by to help customize a plan for you.
Call 1-800-668-9200
Get Buying Advice
Answer a few questions to learn which product is the best fit for your lifestyle.
Help Me Choose
New to Medical Alert Devices?
Request a Buyer's Guide.